A separate laundry room is high on the list of many house hunters' most-asked-for features in their next home. If you have a large or very active family, you might consider taking things one step further and installing commercial laundry machines in your home. These heavy-duty appliances are built for long-term service and durability and offer several advantages over typical residential washers and dryers.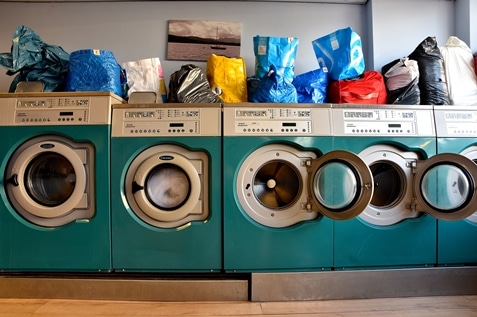 Higher Quality Components and Advanced Technology
Because commercial laundry equipment must be durable, it's made from heavier materials than typical consumer machines. Also, new commercial machines are usually equipped with the latest technology.
More Efficient Performance
Commercial equipment with the latest technology usually performs more efficiently. This could help you save energy and water and may improve cleaning performance.
Higher-Capacity Machines for Fewer Loads
You'll be able to do the same amount of laundry running fewer loads because commercial laundry machines generally have a higher capacity. The highest-capacity consumer washing machines can handle maximum loads of about 30 pounds. Commercial washers have even higher capacity.
Commercial dryers also have higher capacity, as well as higher-volume airflow and higher temperatures. With these features, you'll dry loads faster.
Higher capacity also allows you to wash and dry larger items such as thick bedspreads and comforters, as well as sleeping bags. You may never visit the laundromat again.
Lower Use of Water and Electricity Overall
While commercial laundry equipment may use more water and electricity per load, you'll likely do fewer loads overall, meaning you won't have to do laundry as often as you do with consumer appliances. You may be able to cut laundry loads by half. Over time, this could add up to significant savings.
With all the advantages of commercial laundry machines, you can spend less time in the laundry room. That means you'll have even more time for doing other chores around the house or — who knows? — maybe even some time to kick back and relax.